Coronaspection: Introspection VII
22/06/2020 | Na stronie od 22/06/2020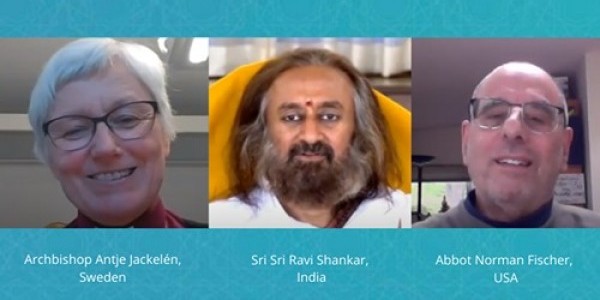 Elijah Interfaith Institute, Israel from Tablet
Alon Goshen-Gottstein, Executive Director of the Elijah Interfaith Institute, Israel, is the author of The Jewish Encounter with Hinduism: History, Spirituality, Identity.
There is a special power in the coming together of religious leaders in their diversity to deliver a message at a given point in time, especially a time of global crisis. Forty important voices are taking part in this project. I am grateful to editors of Tablet magazine for their eagerness to feature the project in its entirety.
Together, we set out to answer seven questions:
What have been your greatest challenges in dealing with the present Corona crisis?

Corona is bringing out a lot of fear in people. How does one deal with fear? What spiritual advice could you offer to people struggling with fear?

Corona has forced people into solitude. How should time be spent in solitude? Many people do not have experience and habits that would allow them to make the most of this opportunity. What advice could they be given?

Corona brings about deprivation. We are deprived of our freedom, of our habits. We lose things, and even more so- people we love. How does one deal with all forms of deprivation?

What does Corona teach us about our interconnectivity? What are spiritual applications that people can practice consciously?

Corona forces us into our own protective space, but it also calls us to solidarity. How to practice solidarity? What are teachings that support solidarity? What actions express solidarity? What can one do to express solidarity, even from within the confines of one's home and protection?

Many people say the world will be different after this Corona crisis. What blessings do you see Corona bringing to the world? How can the world be different, for the better, following this crisis?
One of the most important conceptual threads that runs through the project is the recognition that for all its hardships, the coronavirus is in some way also a blessing. To uncover that blessing we may need the eyes of the other and the experience of another spiritual tradition and how it is able to find blessing even in hardship.
Introspection 7
Archbishop Antje Jackelén, Sweden
Archbishop Antje Jackelen, is the Archbishop of Uppsala and primate (prima inter pares) of the Church of Sweden, the national church. She describes the struggles of the national church during these times. She puts forth the notion of "adapting" as the appropriate way of practicing religion in these times. She skillfully negotiates psychological and spiritual dimensions in confronting fear and solitude. Coronavirus is also a time for revisiting classical theological challenges, which she outlines for us. She concludes by offering a prayer for all, echoing the liturgical time leading up to Easter.
Sri Sri Ravi Shankar, India
Sri Sri Ravi Shankar is one of India's most prominent spiritual teachers. Through his Art of Living Foundation he has taught meditation and breathing techniques to millions in India and internationally and engaged in various educational and humanitarian activities. The presentation of his teachings in interview form profiles Sri Sri's combination of practical realism and spiritual teaching. He suggests a variety of practical ways of spending time fruitfully in lockdown, shows concern for the wellbeing of day-workers who struggle with lockdown and shows concern for physical and mental health in facing the Corona virus. The majority of the presentation is devoted to a series of breathing techniques by means of which one can cope with one of the major challenges of the present situation – fear and anxiety.
Abbot Norman Fischer, USA
Abbot Norman Fischer is a noted Zen teacher, formerly Abbot of San Francisco Zen Center and poet who integrates his Jewish identity with his Zen practice. For him, the present crisis is an opportunity to go inwards and be quiet. It is a moment to go beyond the distraction of busyness, even of doing good things. COVID-19 teaches us what it is that is really necessary for us. The wisdom shared by Fischer is shared as a process of guided meditation, based on the use of the breath,by means of which one confronts fear and transforms it into compassion. This compassion opens one up to a more profound sense of solidarity and interconnectedness.
Więcej: