Coronaspection: Introspection IV
14/06/2020 | Na stronie od 14/06/2020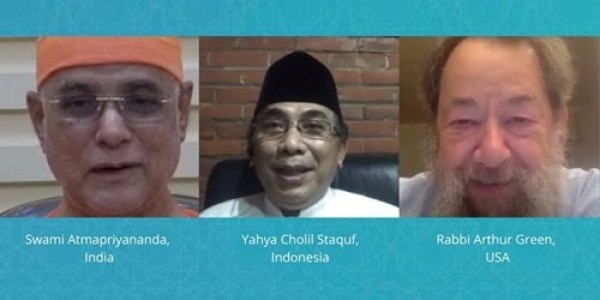 [From: Elijah Interfaith Institute - Israel and Tablet](https://www.tabletmag.com/sections/belief/articles/coronaspection-video-installments-page}
By Alon Goshen-Gottstein
There is a special power in the coming together of religious leaders in their diversity to deliver a message at a given point in time, especially a time of global crisis. Forty important voices are taking part in this project. I am grateful to editors of Tablet magazine for their eagerness to feature the project in its entirety.
Together, we set out to answer seven questions:
What have been your greatest challenges in dealing with the present Corona crisis?

Corona is bringing out a lot of fear in people. How does one deal with fear? What spiritual advice could you offer to people struggling with fear?

Corona has forced people into solitude. How should time be spent in solitude? Many people do not have experience and habits that would allow them to make the most of this opportunity. What advice could they be given?

Corona brings about deprivation. We are deprived of our freedom, of our habits. We lose things, and even more so- people we love. How does one deal with all forms of deprivation?

What does Corona teach us about our interconnectivity? What are spiritual applications that people can practice consciously?

Corona forces us into our own protective space, but it also calls us to solidarity. How to practice solidarity? What are teachings that support solidarity? What actions express solidarity? What can one do to express solidarity, even from within the confines of one's home and protection?

Many people say the world will be different after this Corona crisis. What blessings do you see Corona bringing to the world? How can the world be different, for the better, following this crisis?

One of the most important conceptual threads that runs through the project is the recognition that for all its hardships, the coronavirus is in some way also a blessing. To uncover that blessing we may need the eyes of the other and the experience of another spiritual tradition and how it is able to find blessing even in hardship.
Introspection 4
Swami Atmapriyananda, India
Swami Atmapriyananda is physicist by training, a monk of the Ramakrishna order and founder and Vice Chancellor of Ramakrishna Mission Vivekananda University. Corona allows us to go deeper into ourselves by forcing us to distance from the other. We learn to appreciate our own company. We must develop an aloneness that is beyond loneliness. In it we embrace all humans and all life. We discover the higher dimension of our own Self. The teaching is viewed as practical and Swamiji offers a meditative exercise how to implement this understanding and be with oneself. The pandemic is also the creation of mother of the universe. This is an occasion to surrender to this great power, and a moment to turn in prayer, to go beyond our little intellect and understanding and to trust in God's protective power. Go on your knees and cry – oh God protect this universe from calamity and we shall promise that we will love and help one another and we shall not exploit nature.
Yahya Cholil Staquf, Indonesia
Yahya Cholil Staquf is secretary general of the world's largest Muslim organization, the Nahdlatul Ulama (NU) Supreme Council, Indonesia. Religion, including Islam, is all too often used as a basis for constructing collective identity, inherited from history and community. This in turn also leads to religiously based conflict. We are now entering a point in time in which boundaries between communities are shifting. We must nurture life together as different religions within a more unified global civilization. This requires us to cultivate a more spiritual and interior religious identity. This is a mandate for the time of Ramadan. It is also one of the ways of looking at the impact of COVID-19. It forces us into our interior spaces and provides us with opportunities to reflect and to grow spiritually. Inwardness and interiority are the means for discovering God and discovering the self. By means of this we overcome the fears and sense of loss that arise in view of the pandemic. That interior movement produces universal solidarity that helps people address common challenges.
Rabbi Arthur Green, USA
Rabbi Arthur Green is theologian, scholar of Jewish mysticism and a leader in American Judaism. He is founder of a post-denominational rabbinical school in Boston. The reflection offered in the interview explores the notion of God as the great mother, binah, as a source of redemption, transformation and strength. This is a source of deep universalism. Corona has to show us the foolishness of the petty things that divide us. Dealing with fears and human reactions requires us to go back to the root, going back to the One.