Coronaspection: Introspection XII
03/07/2020 | Na stronie od 03/07/2020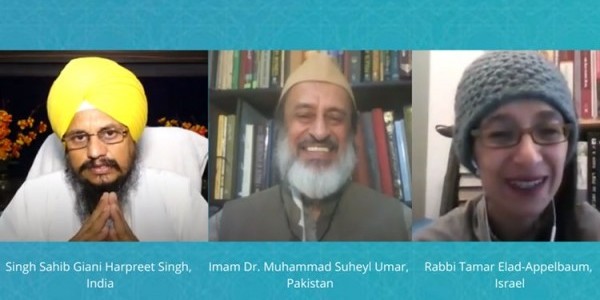 Elijah Interfaith Institute, Israel. From Tablet
Alon Goshen-Gottstein, Executive Director of the Elijah Interfaith Institute, Israel, is the author of The Jewish Encounter with Hinduism: History, Spirituality, Identity.
There is a special power in the coming together of religious leaders in their diversity to deliver a message at a given point in time, especially a time of global crisis. Forty important voices are taking part in this project. I am grateful to editors of Tablet magazine for their eagerness to feature the project in its entirety.
Together, we set out to answer seven questions:
What have been your greatest challenges in dealing with the present Corona crisis?

Corona is bringing out a lot of fear in people. How does one deal with fear? What spiritual advice could you offer to people struggling with fear?

Corona has forced people into solitude. How should time be spent in solitude? Many people do not have experience and habits that would allow them to make the most of this opportunity. What advice could they be given?

Corona brings about deprivation. We are deprived of our freedom, of our habits. We lose things, and even more so- people we love. How does one deal with all forms of deprivation?

What does Corona teach us about our interconnectivity? What are spiritual applications that people can practice consciously?

Corona forces us into our own protective space, but it also calls us to solidarity. How to practice solidarity? What are teachings that support solidarity? What actions express solidarity? What can one do to express solidarity, even from within the confines of one's home and protection?

Many people say the world will be different after this Corona crisis. What blessings do you see Corona bringing to the world? How can the world be different, for the better, following this crisis?
One of the most important conceptual threads that runs through the project is the recognition that for all its hardships, the coronavirus is in some way also a blessing. To uncover that blessing we may need the eyes of the other and the experience of another spiritual tradition and how it is able to find blessing even in hardship.
Introspection 12
Singh Sahib Giani Harpreet Singh, India
Singh Sahib is Jathedar, the appointed head, of Sikh religion's highest administrative seat, the Akal Tkhat. His message, based on questions presented to him for the coronaspection project, focuses on the work the Sikh community has undertaken in its response and highlights the spiritual principles we must bring to bear during this period - self-discipline, meditation, optimism, a positive mental approach, and a natural way of life.
Imam Dr. Muhammad Suheyl Umar, Pakistan
Muhammad Suheyl Umar is a Pakistani scholar, author and religious leader. He narrates a little known process of addressing popular religious responses to Coronavirus in Pakistan by means of appropriate religious teaching. Religious understanding is key in dealing with both the practical and theoretical issues posed by the virus.Religious communities are always in danger of losing their priorities. Decadence can set into all religions and teachers and reformers are required to elevate a religion's teaching with the passage of time. Parallels between some contemporary Jewish and Muslim responses to Coronavirus invite us to reflect on different levels of the religious life and what appropriate religious response is life-giving. The prayer that was most useful is the opening of the Quran, the Fatiha, which is recited at the end of the interview.
Rabbi Tamar Elad-Applebaum is Rabbi of Kehilat Zion, Jerusalem and co-founder of the Beit Midrash (seminary) for Israeli Rabbis. My days are full with the voices of the people I serve and love in my community. We are building the infrastructure of solidarity in the community. Rabbis too need support in this time of crisis, and this leads to creating new networks of support, across denominations. Our challenge now is – how close can we be? We are recreating our ability to give attention to each other. Attention expands to nature, and to every person. We are all in gentle, holy attentivity to each other. We must take a step back and to allow God to do what only he can do. Through the use of breath, we can connect to God and bring his presence close to us.
More: