Coronaspection: Introspection IX
26/06/2020 | Na stronie od 26/06/2020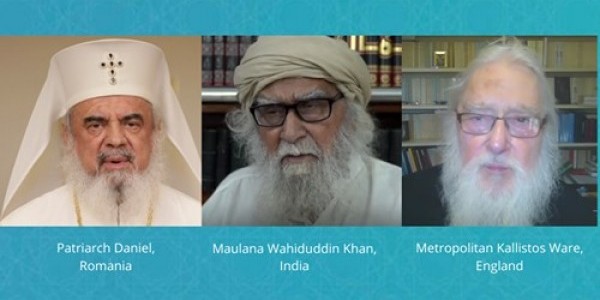 Elijah Interfaith Institute, Israel from Tablet
Alon Goshen-Gottstein, Executive Director of the Elijah Interfaith Institute, Israel, is the author of The Jewish Encounter with Hinduism: History, Spirituality, Identity.
There is a special power in the coming together of religious leaders in their diversity to deliver a message at a given point in time, especially a time of global crisis. Forty important voices are taking part in this project. I am grateful to editors of Tablet magazine for their eagerness to feature the project in its entirety.
Together, we set out to answer seven questions:
What have been your greatest challenges in dealing with the present Corona crisis?

Corona is bringing out a lot of fear in people. How does one deal with fear? What spiritual advice could you offer to people struggling with fear?

Corona has forced people into solitude. How should time be spent in solitude? Many people do not have experience and habits that would allow them to make the most of this opportunity. What advice could they be given?

Corona brings about deprivation. We are deprived of our freedom, of our habits. We lose things, and even more so- people we love. How does one deal with all forms of deprivation?

What does Corona teach us about our interconnectivity? What are spiritual applications that people can practice consciously?

Corona forces us into our own protective space, but it also calls us to solidarity. How to practice solidarity? What are teachings that support solidarity? What actions express solidarity? What can one do to express solidarity, even from within the confines of one's home and protection?

Many people say the world will be different after this Corona crisis. What blessings do you see Corona bringing to the world? How can the world be different, for the better, following this crisis?
One of the most important conceptual threads that runs through the project is the recognition that for all its hardships, the coronavirus is in some way also a blessing. To uncover that blessing we may need the eyes of the other and the experience of another spiritual tradition and how it is able to find blessing even in hardship.
Introspection 9
Patriarch Daniel, Romania
Patriarch Daniel is Patriarch of the Romanian Orthodox Church. In this brief message, delivered specifically for the coronaspection project, Patriarch Daniel considers the pandemic as a test to verify our spiritual state and the intensity of their love for God and for each other. Prayer is a source of peace and hope, solidarity with those who suffer is a source of courage and joy. The pandemic calls us to transform suffering into hope and isolation into a desire for more communion among people. Prayer strengthens us in faith and is an expression of love. Given the closure of churches, the home becomes part of the parish. Faith, hope and love emerge as the key qualities that carry us through this difficult period.
Maulana Wahiduddin Khan, India
Maulana Wahiduddin Khan is an Indian scholar and religious leader, aged 95, who is considered one of the most influential muslims globally. Under lockdown, he was unable to conduct an interview, and we are grateful for a message that he was nevertheless able to share with us, under these conditions, reflecting on key points relating to COVID-19. Coronavirus is a warning given to humanity, as it could steer off the divinely desired course. It is an opportunity for self-correction. Values and respect for the creator and gratitude should be our interior attitude. We now have time to engage in introspection and to cultivate these attitudes, leading to a God-oriented life. A new and better world, a world of blessings, is coming.
Metropolitan Kallistos Ware, England
Metropolitan Kallistos Ware is is one of the best-known contemporary Eastern Orthodox hierarchs and theologians. Retired university professor at Oxford, he is titular Metropolitan under the Ecumenical Patriarchate of Constantinople. His experiences under lockdown provide an insight into the spiritual life and make available to others specific tools of prayer. COVID-19 is not a punishment. It is a challenge and an opportunity. Fear and doubt are analyzed theoretically and engaged from his own personal experience. Stopping the mind from thinking negatively, especially in relation to God, as the pandemic might lead one, is achieved by trust in God and prayer. Repetitive prayer and arrow prayer are forms of prayer that are practiced in Orthodox tradition, but universally available. Several examples are drawn from Metropolitan's personal practice. Relationship is something personal. This applies to upholding a personal relationship with God as well as seeing the face of the other person, as an essential component of human relationship. I am only a person if I greet other people.
Więej: