Zapowiedzi w lutym 2019
| Na stronie od 06/06/2019
25 II 2019. "Pisanie o tym nie jest na siły Żyda" Dyskusja wokół książki Mordechaja Canina "Przez ruiny i zgliszcza - podróż po stu zgładzonych gminach żydowskich w Polsce" z udziałem autorki przekładu, prof. Moniki Adamczyk-Garbowskiej (UMCS), oraz dr Heleny Datner i Marty Janczewskiej (ŻIH). Żydowski Instytut Historyczny Tłomackie 3/5, 00-090 Warszawa, 19:00-19:30.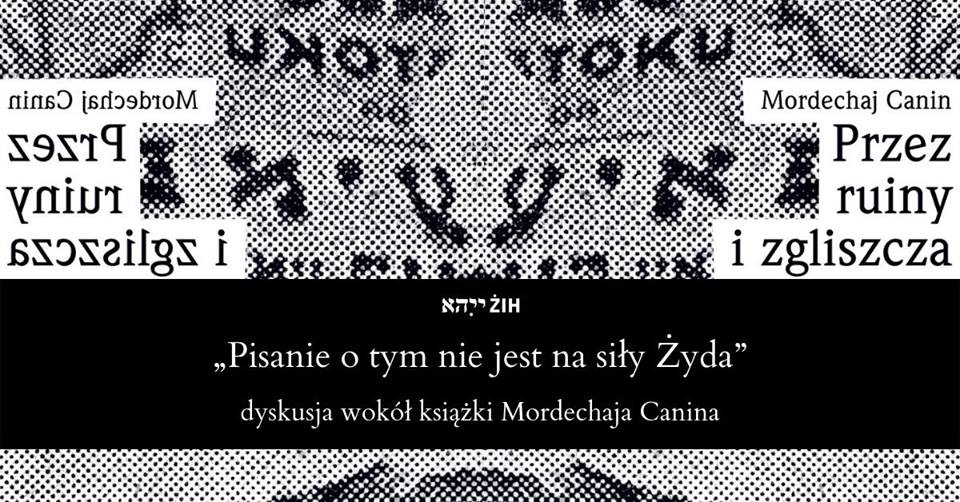 25 II 2019. CZYTELNIA POLIN: Artur Markowski "Przemoc antyżydowska i wyobrażenia społeczne. Pogrom białostocki 1906 r." Porozmawiamy o tym, jak opowiada się o pogromach, na przykładzie pogromu białostockiego z 1906 roku. Mjuzeum POLIN, 18:00.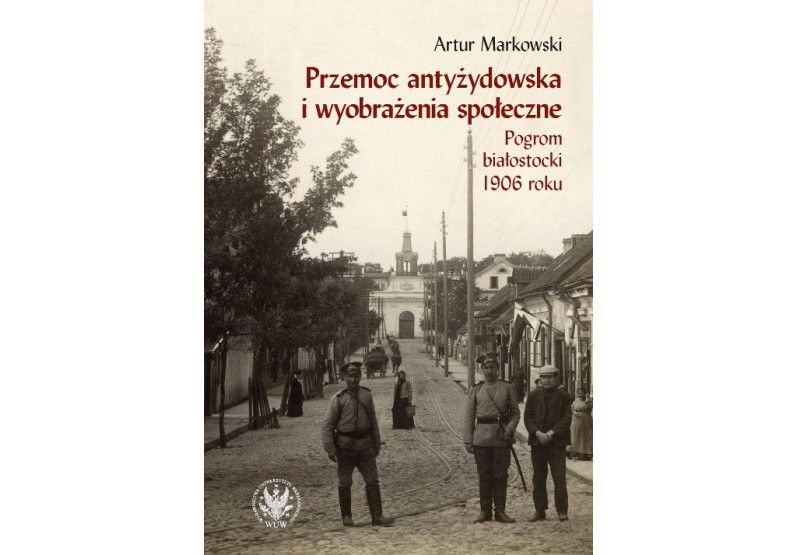 26 II 2019. Paweł Śpiewak - "Polityczny wymiar Księgi Rut", seminarium naukowe, ŻIH, 11:00.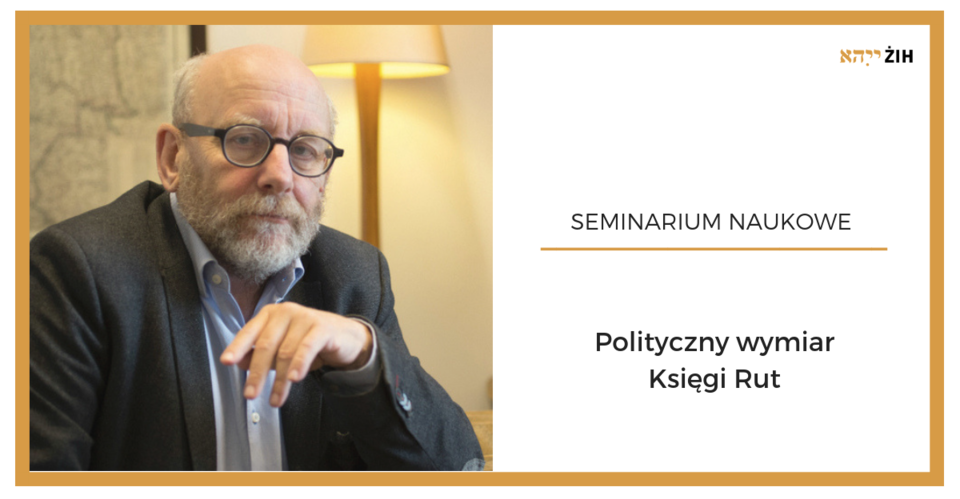 28 II 2019. "Nie tylko Palestyna. Polskie plany emigracyjne wobec Żydów 1935-1939" - spotkanie wokół książki z autorką dr Zofią Trębacz. ŻIH, 18:00..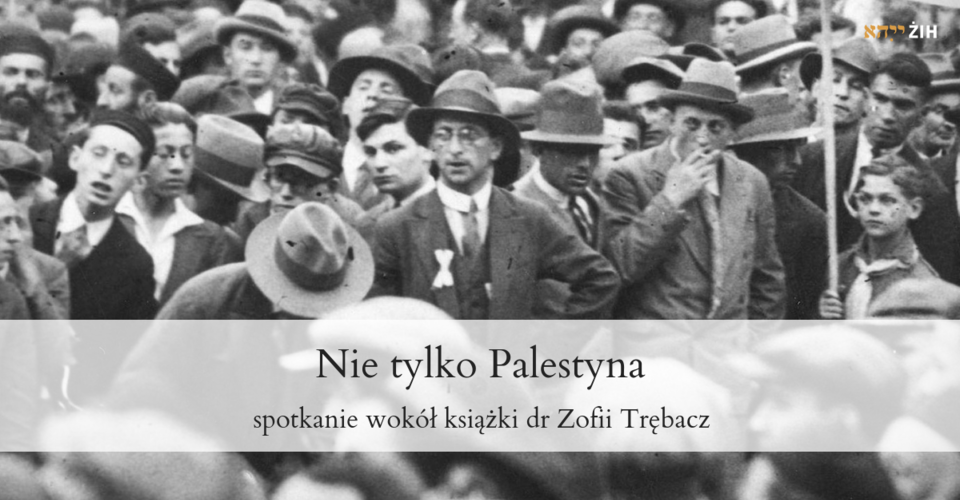 14 III 2019. Profesor Paweł Œpiewak i Szczepan Twardoch, autor książki "Królestwo" będą rozmawiać o etosie nadziei, cierpieniu, wyborze wartości w rzeczywistości zastanej, przestrzeniach kryjówek, ucieczkach i powrotach do nich. Punktem wyjścia dyskusji będzie kultowy już esej księdza Józefa Tischnera z 1978 roku "Ludzie z kryjówek" (z książki "Myślenie według wartości"). Spotkanie poprowadzi prof. Andrzej Żbikowski. 19:00.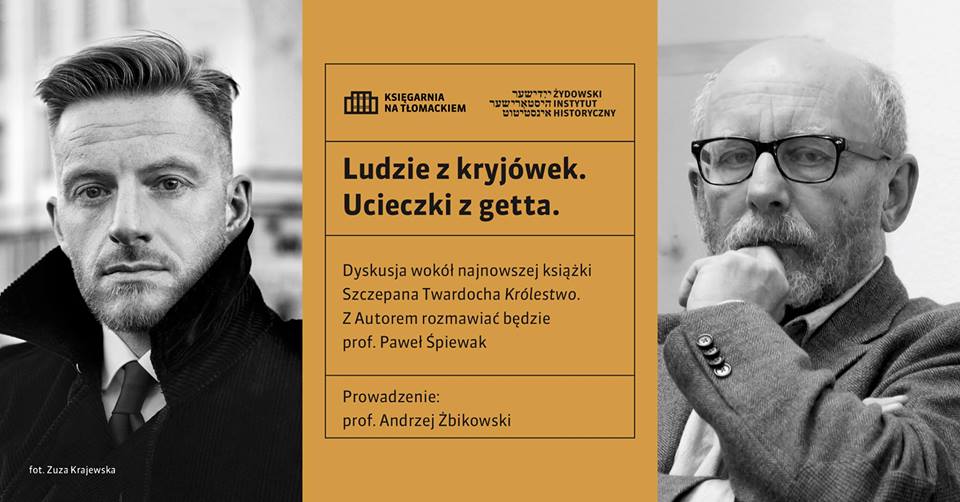 8 V 2019. - 3 I 2020. Wystawa "Auschwitz. Nie tak dawno. Nie tak daleko." od maja w Muzeum Dziedzictwa Żydowskiego w Nowym Jorku – Upamiętniając ofiary Auschwitz powinniśmy także odczuwać moralny dyskomfort. Antysemickie, nienawistne i ksenofobiczne ideologie, które w przeszłości doprowadziły ludzkość do katastrofy, jaką był Auschwitz, nadal wydają się obecne w naszym życiu. Nadal zatruwają ludzkie umysły i wpływają na nasze obecne postawy. To dlatego edukacja o Holokauście nie powinna ograniczać się do lekcji historii. Powinna być ona częścią programów nauczania w ramach zajęć politologii, edukacji obywatelskiej, etyki, nauk o mediach i religii. Ta wystawa jest jednym z narzędzi, którymi możemy się posługiwać - powiedział dr Piotr M. A. Cywiński, dyrektor Muzeum Auschwitz.
30 VI - 3 VII 2019. Lund. Doroczna konferencja Mędzynarodowej Rady Chrześcijan i Żydów ICCJ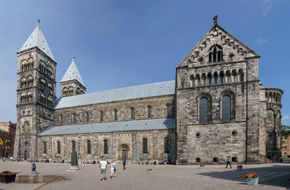 Temat:
Transformations take place within and between us as communities and individuals. We will deal with a number of questions pertaining to Transformations during our conference, but we'd like to start early by posing some questions related to our conference theme and inviting you to discuss them. Please feel free to discuss in the comment section and/or bring the question to your community for a local/regional discussion! Question 1: How do we put dialogue into the heart of our religious traditions, rather than a peripheral concern?
Anette Adelmann; ICCJ General Secretary | 11.11.2018:
Preparations for ICCJ's 2019 annual conference to be held in Lund/Sweden, June 30 - July 3, are under way. The theme of the conference is "Transformations Within and Between: How Does Our New Relationship Affect Christian and Jewish Self-Understandings?"
All living relationships change and develop. This includes the relationship between Jews and Christians, which has changed remarkably in recent decades. In Lund 2019, the ICCJ will consider the effects of dialogue on our self- understanding as Christians and Jews, together with how we understand our neighbour. Where are we now, what challenges do we face, and where are we going?
The theme of this conference - Transformations - is a central and recurring theme in the scriptures. These narratives contain numerous beginnings and endings; but an ending is never just an ending, but also a new beginning. Between what has been and what will be, transformations occur.
The ICCJ itself has undergone transformations during its history. Our perspectives, challenges and purposes have evolved since the time of the "Address to the Churches – The Ten Points of Seelisberg" in 1947 up to 2009's "A Time for Recommitment: The Twelve Points of Berlin," and includes numerous ICCJ statements in between and up to today. Our next conference will focus on the questions that enable us to move forward in dialogue.
"Transformations" also encompasses what is happening spiritually and theologically:
How does the changing relationship between Jews and Christians shape how we understand ourselves as human beings in the world?
How does it affect how we conceive of our traditions' relationship to God?
What is the gift which the other brings that helps to transform one's own perspective and religious appreciation?
How do we put dialogue into the heart of our religious traditions, rather than a peripheral concern?
What happens within our own communities when our co-religionists feel threatened by transformations in our received understandings about the other?
How are we affected by outbursts of antisemitism and Islamophobia, including in recent years in Malmö, Sweden, or the widespread polarization in society at large?
What challenges and opportunities do we foresee? These and other topics will be explored when the ICCJ gathers in Sweden from 30 June to 3 July, 2019. We will mark the 40th anniversary of the ICCJ's national member organization, Samarbetsradet för judar och kristna (Cooperation Council for Jews and Christians), which is active in Stockholm, Gothenburg and Lund/Malmö. Our 2019 conference is hosted in southernmost Sweden in Lund: Lund is a city with a rich history, in its city centre stands the medieval Roman cathedral from the 12th century. Since the Reformation it is Lutheran but, as a sign of today's ecumenical spirit, the city's Catholic congregation currently celebrates its Sunday mass in the Lutheran church while their own church is being renovated. Lund has a proud academic history as well as an industrial one. It happens to be rich in Jewish history: part of the city centre was once a miniature shtetl and it is home to the archive of the Ravensbrück witness archive.
The ICCJ Executive Board, together with the ICCJ General Secretary and the Co- chairs of the conference planning committee - ICCJ President Rev. Bo Sandahl from Lund and Rabbi Peter Borenstein from Gothenburg - look forward to welcoming you to Sweden in 2019!
A pdf-file of the introduction to the conference theme for Lund 2019 can be found here - please share it with colleagues and friends. Further information will follow on ICCJ's website in due time. To receive new information and updates promptly by e-mail, please register for the ICCJ-newsletter. The online-registration for participants in ICCJ's 2019 conference will open at the end of February 2019.
The countdown to Lund 2019 is on! Below we offer you an introduction to the city:
This year's ICCJ conference takes place in the small Swedish city of Lund, home to 90.000 of which many are students at the local university. It's an old city rich in history and culture. Lund is situated in the very south of Sweden, a ten-minute train ride from Malmö and just over 30 minutes by train across the Öresund canal bridge from the Danish capital Copenhagen. In 2016 Lund hosted the 500 year commemoration of the Lutheran Reformation, an event best known to most due to the presence of Pope Francis and the signing of such an important ecumenical document.
The Jewish history of Lund goes back to the late nineteen hundreds, when hundreds of Jews fleeing pogroms in Eastern Europe arrived in the South of Sweden. While some settled further north, at its peak Lund was the permanent home of some 500 Jews at the turn of the last century, most of whom lived in the part of Lund known locally as Nöden ("The misery" in Swedish). There were several synagogues as well as a mikve during the first half of the twentieth century, yet the city's Jewish population declined and in 1939 when a major census took place, a mere 50 Jews still lived in Lund. Lund is still home to a Jewish population, albeit not to a proper synagogue. There is an Orthodox synagogue in nearby Malmö, as well as a Conservative minyan.
The city center of Lund is dominated by the grand Lund Cathedral, built around 1100 and originally the site of the Nordic arch-episcopal see. In 1234 a major fire plagued the area, leading to a major refurbishment of the Cathedral. Lund University was inaugurated in the Cathedral in 1668, and the Cathedral served as the main center of education until the University built one of its own some 200 metres from the Cathedral. That building, known as Kungshuset ("The King's house") still stands today, and up until recently the faculty of Philosophy still hosted classes in the building. Lund Cathedral boasts a magnificent astronomical clock (Horologium mirabile Lundense) dating back to the early fifteenth century. The clock plays In dulci jubilo daily, and is a major tourist attraction. Apart from serving as the center of the Diocese of Lund, the Cathedral also hosts the ceremony of the conferment of doctoral degrees at Lund University. Built as a Catholic church in what used to be Denmark, the Lund Cathedral is today at the heart of the Protestant Church of South Sweden.
We invite you all to browse the rich history of Lund as we gather for our conference in June/July!