A 'historic' day in Israel ends with a political compromise
Big questions about the future
27/03/2023 | Na stronie od 28/03/2023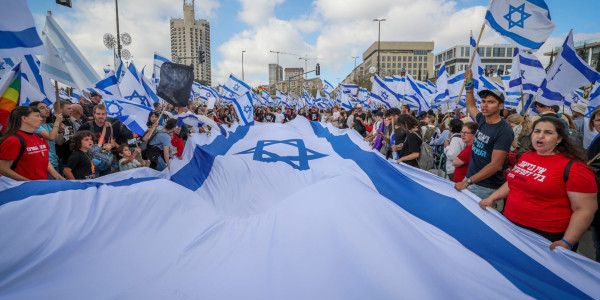 Surce: JTA
A 'historic' day in Israel ends with a political compromise — and big questions about the future
BY PHILISSA CRAMER MARCH 27, 2023 4:16 PM
(JTA) — Like hundreds of thousands of her fellow Israelis, Kelly Breakstone Roth's instinct on Sunday was to take to the streets.
The only wrinkle: She and her family have been in Brooklyn for the last two years, part of the diaspora of hundreds of thousands of Israelis living abroad. They couldn't just walk out the door of their apartment and join the sweeping nationwide protest that ignited after Prime Minister Benjamin Netanyahu fired his defense minister, who had called for a pause on proposed changes to Israel's judiciary.
So they bought one-way plane tickets, set to take off at 2 a.m. on Monday and land in Israel that evening. "It was a very spontaneous decision," Breakstone Roth, an entrepreneur, told the Jewish Telegraphic Agency on Sunday evening, as she ran errands to prepare her family of five for a trip of indeterminate length. "But the sensation that we have to be there has been building up for quite a bit now."
She likened the experience to that of Israeli military reservists who receive an emergency call-up notice, known in Israeli jargon as a "tzav shmoneh," Hebrew for "order eight."
"This is a tzav shmoneh moment for anybody who wants there to be a Jewish and democratic state," she said.
By the time Breakstone Roth landed in Tel Aviv Monday evening, conditions in Israel had shifted dramatically. Late-night protests on Sunday that shut down a main highway and riveted Jews the world over had been dispersed, but protesters convened again on Monday in Jerusalem, where the parliament was waiting to hear whether it would vote on a key piece of the judiciary legislation. The country's labor unions had called a general strike, and everything from universities to McDonald's franchises to some departures at the Tel Aviv airport had shut down.
Meanwhile, Netanyahu had spent Sunday night negotiating with his coalition partners, trying to keep their government together despite a mounting sense that proceeding immediately with its signature legislation could plunge Israel into unprecedented turmoil — possibly even civil war. By the evening, even the justice minister who threatened to quit if Netanyahu delayed the vote said he would respect a decision to pause — one that Netanyahu made official only as night fell.
Netanyahu did not say what he had promised his partners to sign off on the pause, but a far-right minister said he had exacted permission to launch a civilian police corps.
Earlier, breaking his public silence, the prime minister had tweeted, "I call on all the demonstrators in Jerusalem, on the right and the left, to behave responsibly and not to act violently. We are brotherly people."
Big questions loomed: What would happen when right-wing supporters of the judiciary reform — including a notoriously racist and combative group of fans from the Beitar Jerusalem soccer club — heeded a call to take to the streets, too? Would a delay satisfy protesters who have spent a dozen weeks articulating deep-seated grievances that, in many cases, go far beyond the particular reforms? Would Netanyahu and his coalition offer any meaningful concessions before resuming the legislative process in the future? What would be the cost of the promises he offered his most extreme partners in exchange for their acquiescence?
The answers to those questions will help determine what kind of country Israel will be after this crisis ends, whenever that is. But on Sunday night and Monday, the protesters and those watching them could be forgiven for taking a moment to bask in the sense that history was being made.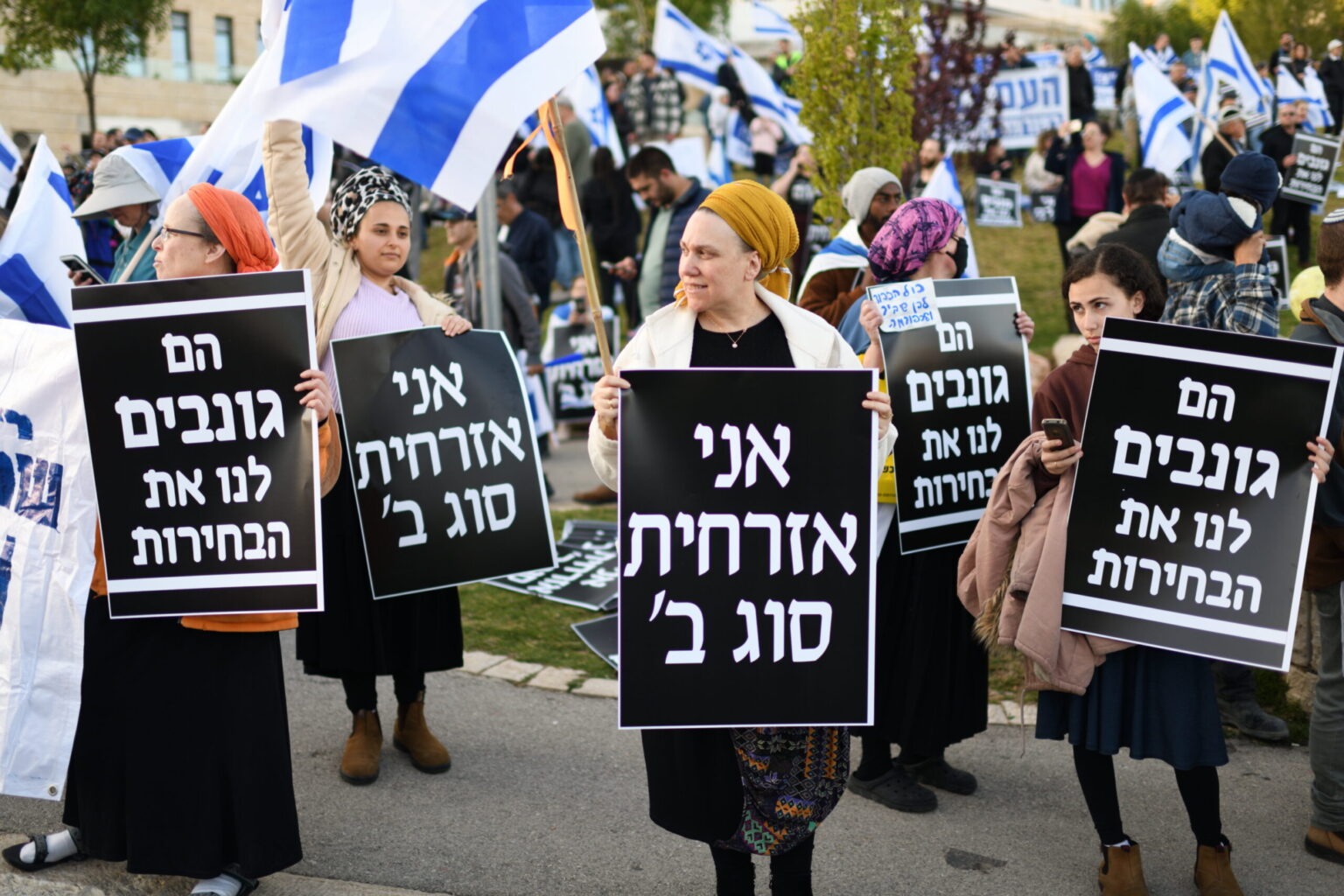 Thousands of Israeli right-wing protesters rally in support of the Israeli government's judicial overhaul bills outside of the Israeli parliament, the Knesset, in Jerusalem, March 27, 2023. (Gili Yaari/Flash90)
"What we witness in Israel is a historical revolution in the style of French, Russian, Iranian revolutions and the collapse of the Soviet Union," tweeted Yossi Melman, a journalist who has covered military affairs for multiple Israeli newspapers.
"A historic night. Each of us will remember where we were tonight," tweeted the journalist and political analyst Anshel Pfeffer. "And whoever was not in the streets will say that they were."
The head of the country's labor union, the Histadrut, also used the word "historic" to describe the general strike he was supporting.
Ahmad Tibi, an Arab lawmaker, tweeted in language drenched in history. He posted in Hebrew transliteration a slogan associated with the 2011 Arab Spring: "The people want to bring down the regime."
It's not at all clear that the Israelis who protested on Sunday and Monday will ultimately be satisfied. Revolutions don't always succeed, as the Arab Spring and countless other examples in history make clear. Many of the social and demographic forces that brought Israel to this moment haven't changed. Netanyahu has survived political crisis after political crisis before.
In addition, while a substantial majority of Israelis oppose the specific judicial reform legislation that is on the table now, many still say they believe some changes are merited. Israel's far right, in particular, still views a disempowered Supreme Court as essential to achieving its vision of expanded Jewish settlement and control in the West Bank.
Supporters of the judicial overhaul were framing the stakes as historic, too, but casting the demonstrations as a threat to democracy. It is "inconceivable that the minority will force its opinion with violence and the creation of anarchy in the streets," declared 17 leading religious Zionist rabbis in a joint statement calling on the government to push forward with the legislation on Monday.
Yet for Monday, at least, the politically diverse anti-government coalition that has solidified over the last three months could exult in the power of the people. And at a time when some liberal Israelis are so alarmed by the country's political direction that they are packing up and moving away, the Breakstone Roths were coming home.
"This is a critical time in Israel's history," Breakstone Roth said before boarding. "In terms of our daughters, we felt it was really important for them to know that we're doing everything that we possibly can to try to make an impact."
She said she hoped to hear upon landing that Netanyahu was pulling the legislation, if only temporarily — then turned to realpolitik. "Hopefully if he does say it, he intends it, and … we'll be able to say that the demonstrations were a success," she said. "And if he's just fooling, trying to do some sort of maneuver, then it's going to be ignited once again."
More: