Towards a Global Ethic
Elijah Interfaith Institute - Wisdom Newsletter August 2021
02/09/2021 | Na stronie od 31/08/2021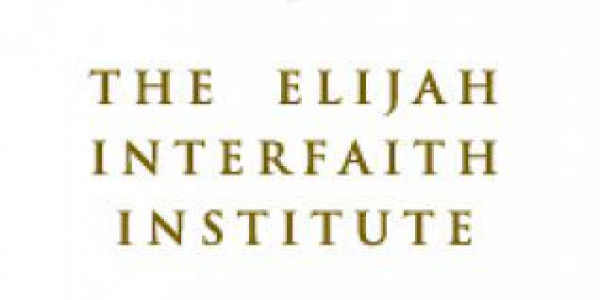 Source: Elijah Interfaith Institute Jerusalem
In Memoriam - Venerable Bhikkhuni Kusuma
It is with great sorrow that we inform you that member of the Elijah Board of World Religious Leaders, Venerable Bhikkhuni Kusuma, passed away early on Sunday morning, August 29.
In 1996, Bhikkhuni Kusuma became the first woman in present Sri Lanka to don the robes of a Bhikkuni Buddhist order after a lapse of nearly 1000 years. She was a member of the executive committee of the International Buddhist women's organization Sakyaditha and a permanent member of the World Sangha Council. She built the Ayya Khema International Buddhist Mandir in Sri Lanka, a study and retreat center offering the study of Pali & Theravada Buddhist Sutras.
Bhikkhuni Kusuma participated in almost all Elijah meetings since its foundation in 2003 in Seville. She was very loyal and committed. Even despite her advanced age and frail health she took part in the online meeting in 2020 and we are able to share with you some of the wisdom and positive energy she shared with us on that occasion. She speaks of a righteous person, which she exemplified, and love and compassion, which she exuded.
Towards a Global Ethic
The Elijah Interfaith summer school and interreligious leadership seminar took place over Zoom in August with participants from Israel, the US, the UK, India, Turkey, Germany, Italy and Poland.
Our theme was "Interreligious Perspectives on Global Solidarity and Caring for the Other." World religious leaders and scholars from the Elijah Academy representing six different religious traditions shared their wisdom to provide a rich program of learning and a spiritually, intellectually and ethically challenging array of ideas.
Discussions during days three and four were based on Encyclicals by Pope Francis, who has tackled contemporary global issues such as poverty, immigration and refugees and the environment. (Future newsletters will deal with these issues.) Pope Francis has been inspired by St Francis of Assisi, whose name he chose to bear as Pope. In his encyclicals dealing with both poverty and the environment, the Pope quotes St Francis and defers to his wisdom.
The final day of the summer school opened with a reading of St Francis' Canticle of Brother Sun and Sister Moon in both the original ancient Italian dialect and then in English translation.
St Francis Prayer in Italian and English
The learning on day five was devoted to the Global Ethic, an idea proposed by theologian Hans Kung, which has become the flagship document of the Parliament of World Religions. Our teacher was Professor Myriam Renaud, who has been instrumental in the development of the Ethic in recent years. Her presentation of the Ethic from an historical and institutional perspective can be seen here.
Professor Myriam Renaud - Introduction
The concept of a Global Ethic suggests that there are fundamental principles common to all religions that could be universally acknowledged and adopted, as they would also resonate with people not committed to any religious tradition. The opening Declaration of a Global Ethic is prayer-like and Professor Renaud read it aloud in Praying Together in Jerusalem, which was incorporated into the summer school program.
There are five "Commitments" which adherents to the Global Ethic are asked to undertake:
Commitment to a Culture of Non-violence and Respect for Life.
Commitment to a Culture of Solidarity and a Just Economic Order.
Commitment to a Culture of Tolerance and a Life of Truthfulness.
Commitment to a Culture of Equal Rights and Partnership Between Men and Women.
Commitment to a Culture of Sustainability and Care for the Earth.
The Global Ethic document promotes each of these ideals, recognising that most of the world's population does not live in societies that have implemented them. The document offers an explanation as to why this culture does not yet exist and practical advice on what would be required to move towards their fulfilment. Pairs of participants studied one of the commitments from the Global Ethic document in depth and then composed their prayers based on what they had learnt. Some of these prayers, inspired and inspiring, then were shared at Praying Together in Jerusalem.
Prayers of the participants
Praying Together in Jerusalem: Repentance according to Rav Kook
Following the success of last month's Praying Together in Jerusalem in which participants shared prayers they composed as an outcome of their learning, we will follow a similar model in September. Our gathering will be
Thursday, September 2nd at 6:00 pm Jerusalem time.
4 pm UK time
5 pm Central European time
6 pm Israel time
8:30 pm India time
Our teacher will be Professor Yehuda Gellman of Ben Gurion University, a long-time contributor to the work of Elijah.
In keeping with the theme of the Hebrew month of Elul, leading up to the Jewish High Holy Days, Professor Gellman will teach a passage from Rav Kook on "Repentance." After the teaching, participants will have an opportunity to compose prayers to be shared with others based on what they have learnt.
In preparation for the session, it is recommended that participants familiarise themselves with Rav Kook's background. One site is.
There will be an opportunity to meet live in Jerusalem. Please register to receive the details.
Professor Yehuda Gellman
Jerome Yehuda Gellman is Emeritus Professor of Philosophy at Ben-Gurion University of the Negev and Honorary Professor at Australian Catholic University. He has published widely in analytic philosophy of religion and in constructive Jewish theology. Prof. Gellman's books include Abraham! Abraham: Kierkegaard and the Hasidim on the Binding of Isaac and Experience of God and the Rationality of Theistic Belief.