Invitation to Summer School and Interreligious Training Seminar 2021
01/08/2021 | Na stronie od 18/06/2021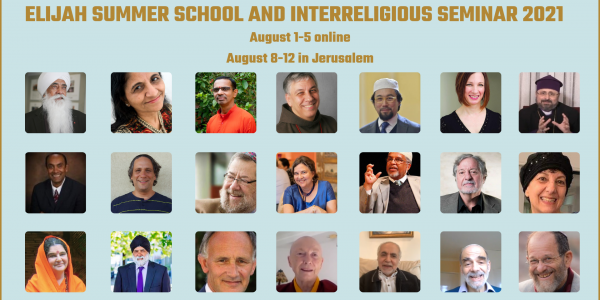 From: Elijah Interfaith Institute
Following almost a year and a half of COVID-19, many global issues have come into clearer relief. A common denominator of the issues confronting the world is that they present a challenge to religions: How to increase global solidarity? How to care more effectively for the other?
To tackle these questions we will attend to the following topics:
the spiritual basis of human and global interconnectivity and the moral and theological foundations for social responsibility;
the religious mandate to do good and values of charity, justice, responsibility;
rethinking charity in a global age, in light of the UN's Millennium Development Goals;
Pope Francis as social theorist: study and responses to his epistles;
care for society and care for creation;
global solidarity - the post-national and transnational world and the implications for religions; challenges of migration;
the promise and limitations of a theory of global ethics.
Our Cast of teachers and contributors is expansive, in terms of religious, as well as religious, representation (listed alphabetically):
Prof. Pal Ahluwalia, Sikh (Australia)
Imam Plemon al-Amin, Muslim (USA)
Prof. Jose Casanova, Christian (USA)
Professor David Ford, Christian (UK)
Rabbi Art Green, Jewish (USA)
Professor Katherine Marshall, Christian (USA)
Patriarch Sahak II Mashalian, Christian (Turkey)
Rabbi Micha Odenheimer, Jewish (Israel)
Imam Yahya Pallavacini, Muslim (Italy)
Fr. Prof. Jim Puglisi, Christian (Italy)
Prof. Anantand Rambachan, Hindu (USA)
Imam Faisal Rauf, Muslim (USA)
Prof. Myriam Renaud, Christian (USA)
Swamini Adityananda Saraswati, Hindu (India)
Swami Shubamrita, Hindu (India)
Prof. Neelima Shukla-Bhatt, Hindu (USA)
Bhai Sahib Mohinder Singh, Sikh (UK)
Karma Lekshe Tsomo, Buddhist (USA)
Rabbi Jonathan Wittenberg, Jewish (UK)
Program anchors and facilitators: Rabbi Alon Goshen-Gottstein and Peta Jones Pellach.
The program uses diverse methodologies including text study ("chevruta"), lectures and panels of world religious leaders and scholars, open discussions and Bibliodrama, and of course sharing prayer and spiritual inspiration.
Where, when?
We've left this for last, because for next 10 days you have a choice.
The online program will take place Sunday-Thursday August 1st-5th (2021)
However, some of you have asked for the in-person component to be reinstated. After all, many of us are vaccinated. We are therefore happy to announce that if there is a minimum quorum, we will hold a second in-person week of the program in Jerusalem, August 8-12. The second week is open to participants in week 1 and to former students of our summer school program. It will consist of site visits and meetings with local organizations that engage in the mandate to serve and do good, and who put into action the ideals we will have discussed during week 1. And of course, the regular course of visits to holy sites and accompanying study and discussion will be part of the second week as well. We must have confirmation of a committed group for week 2 no later than June 28th. Please send a message expressing interest to admin@elijah-interfaith.org.
Details of the program (week 1) and registration are available at:<<<
We look forward to seeing you soon on zoom or in person.
Shalom-Salam-Pax et Bonum