Approaches to Modern Judaism
30/06/2020 | Na stronie od 18/05/2021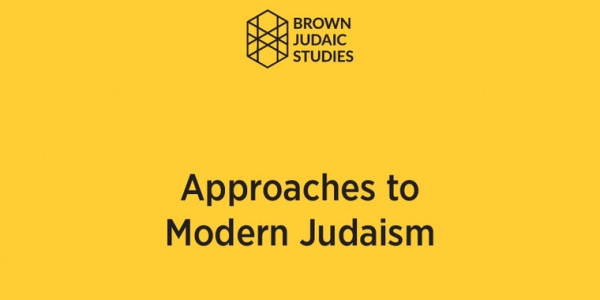 Source: Brown Judaic Studies, open access.
ESSAYS
(pp. 1-18) David Biale
In the early 1760s, Moses Mendelssohn wrote to his fiancée, Fromet Guggenheim: "Your amourousness requires me in these letters to transcend all conventional ceremonies. For, just as we needed no marriage brokers for our (engagement), so we need no ceremonies for our correspondence … The heart will answer these instead." And in another place: "Even the kisses that I stole from your lips were mixed with some bitterness, for the approaching separation made me heavy of heart and incapable of enjoying a pure pleasure."¹ In his classic article from 1945, Jacob Katz argued that with these letters, Mendelssohn marked the...
(pp. 19-30) Paul R. Mendes-Flohr
The Venerable Cardinal Newman once observed that the crisis of religion in the modern world is one of "authority and obedience." The authority of religion has been eclipsed and, consequently, also obedience to its precepts and teachings. The process leading to this crisis is generally understood as that of secularization, the radical political, social and cultural change which beginning with the eighteenth century is one of the salient features of modernity, at least in the West.¹ It is as a cultural, more specifically as a cognitive process that secularization most profoundly affects and troubles religion. Philology offers us a ready...
(pp. 31-62) Michael N. Dobkowski
Given several decades of fruitful dialogue, it should be possible for Judaism to benefit from some of the theological and political developments which have transpired in Christianity, especially in terms of the bridge of dialogue and communication being built between Christianity, Marxism and movements of liberation. World War Two and post-war upheavals impacted directly upon Christian theology which was radicalized through its exposure to Hitler, Vietnam and the Third World Revolutions. As a result of this experience, radical Christian thinkers entered into a dialogue with atheistic and revolutionary Marxism. Both sides agreed to overlook the profound structural differences between the...
(pp. 63-84) David Ellenson
Peter Berger has observed that a major result of the process of secularization in the modern world is that "sectors of society and culture are removed from the domination of religious symbols and institutions."¹ Institutions and persons once controlled by religion have been removed from such tutelage. This process of secularization has not only had effects upon the role religion plays in society, but upon traditional religions themselves. As Berger says, "The fundamental problem of [traditional] religious institutions is how to keep going in a milieu that no longer takes for granted their definitions of reality."² In brief, the advent...
(pp. 85-110) Stephen J. Whitfield
Consider the career of an American writer who was born in 1923, flew numerous combat missions during the Second World War, and then returned home to attend college and receive a master's degree in literature. After teaching the subject he entered advertising before his writing on the side brought acclaim and success. If this outline of an author's career sounds vaguely familiar, it may be because it has emerged in duplicate. Two writers fit its profile: James Dickey and Joseph Heller. How they differ, however, is both more interesting and more suggestive of the cultural imperatives that distinguish Southern Gentiles...
(pp. 111-140) B. Barry Levy
Begun in 1976 as a 136 page English commentary on Esther, the Artscroll Bible commentaries have flourished in a way few observers would have thought possible. The series has now passed the 20 volume mark, and while publication has decelerated of late, the project continues to grow.¹ In the course of its rapid rise in popularity, Artscroll has managed to attract the support of many spokesmen of different Orthodox groups. Few other efforts -- educational, religious, political or literary -- are able to display letters of approval from Rabbis M. Feinstein, M. Gifter, J. Kamenecki, G. Schorr, J. Ruderman,