Elijah Interfaith Institute news
20/12/2020 | Na stronie od 21/12/2020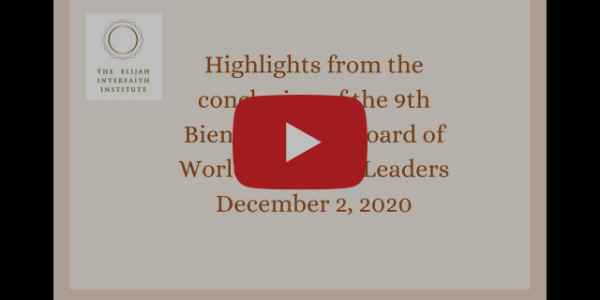 From: Elijah Interfaith Institute
Coming Together Again – The 9th biennial meeting of The Elijah Board of World Religious Leaders
Issuing a Call: Fair Distribution of Covid 19 Vaccine
END OF YEAR APPEAL
Sharing Wisdom – How Can We Practice Friendship Beyond Our Limitations: An Interfaith Leaders' Conversation
Hold the Date - Next gathering of Praying Together in Jerusalem
Coming Together Again – The 9th biennial meeting of The Elijah Board of World Religious Leaders
The Elijah Board of World Religious Leaders has been meeting in person every other year, since 2003. Unable to meet in person, this year we held our 9th Meeting over Zoom. Turnout was huge, as no travel was involved. With over 60 participants taking part, COVID-19 gave us the opportunity to learn how committed members of the Board are to our vision of sharing wisdom and cultivating friendship. Participants ranged from California to Indonesia, united in sharing the challenges of the year and advancing an outreach program of friendship across religions.
We have already shared with our readers the opening ceremony. Following a series of prayers, we took the time to remember members of the Board who had passed away since our previous meeting. Each was appreciated by a member of another faith tradition, a testimony to appreciation in the most personal way, across religious line.
The meeting was devoted to two themes – sharing experiences of leadership during COVID-19. Personal and communal issues were shared, but more importantly, this provided a forum for leaders to speak freely and intimately about their struggles and challenges as religious leaders during the pandemic. The three opening talks, offered by Cardinal Schonborn (Austria), Rabbi Lazar (Russia), and Ven Khandro Rinpoche (India), offer a fine balance of the personal and communal voice that leaders speak with. They are moving because they feature our leaders in their humanity.
Following Elijah's friendship across religions campaign and theoretical reflections on the subject during earlier meetings, leaders met in small groups to offer scripturally based teachings in support of the relatively novel idea of practicing friendship across religions. These teachings will be used as part of a planned launch of a declaration of friendship that Elijah leaders will issue and that will serve as the basis for a global campaign to have religious leaders sign and act upon this friendship declaration.
The meeting concluded with messages of hope, to be taken back to our community and their communities. The friendships that our leaders model in their relationships with one another and their openness to learning from one another provides inspiration and hope for a better year to come.
In the video following, you will hear from Rabbi Richard Marker (USA), Archbishop Josiah Fearon (Nigeria/UK), Shrivatsa Goswami (India), Brahma Kumaris sisters, Maureen Goodman and Sister Jayanti (UK), Grand Mufti Mustafa Ceric (Bosnia), Archbishop Sorrentino (Italy), Imam Faisal Rauf (USA) and Khandro Rinpoche (India.). All express their gratitude at having been in this extraordinary conversation between religious leaders, all firmly rooted in their faiths and all engaged in building bridges with each other and then taking the message of mutual respect to their communities.
The meeting ended in prayer and song, led by Archbishop Griswold and Bishop Domenico Sorrentino.
Issuing a Call: Fair Distribution of Covid 19 Vaccine
COVID-19 has taught us how interconnected we are. It is, in fact, one of the main messages of the Coronaspection project, as the project trailer makes clear. When Elijah's religious leaders considered the implications of COVID-19 for a global sense of unity and for friendship understood in the broadest sense, they realized the immediate policy consequences as these relate to the universal availability of the COVID vaccine. The following statement was formulated by Elijah leaders, in response to the challenge of the moment: Encouraged by the happy prospect of the speedy distribution of a vaccine to remedy the illness currently afflicting the world,
We strongly urge all governments to assure that the vaccine will reach all nations and their inhabitants equally.
We all share the age-old lesson:
Humanity is one body;
When one part of the body aches all other parts feel it.
Nobody shall be left behind.
May we all - in the name of The All Merciful One - draw strength from each other
END OF YEAR APPEAL
It has been our privilege to serve the broad international community that looks to Elijah for resources of religious wisdom – timeless and timely. The recently completed meeting of Elijah leaders was held on zoom and was recorded. For the first time in nearly 20 years, we are able to share with our community of readers some of the actual discussions and proceedings. This has been one of the unexpected blessings brought about by the pandemic and how we have adapted to it. We would like to be able to make a large part of the meeting's proceedings available, so you too can share in the wisdom.
But we need your help. COVID-19 has placed great pressures not only on the world's health, but also on the world's finances. We too have suffered cutbacks and are unsure of next steps. Please help us to serve you. Please make it possible for us to continue serving you. Please help us, in a very concrete manner, make the teachings that emerged from our meeting available to our community and to communities at large.
As 2020, difficult year that it was, draws to a close, we ask you to show your support for our work. Please be generous with your end of year donation.
Sharing Wisdom
A number of very powerful exchanges between religious leaders took place at the recent meeting of the Elijah Board of World Religious Leaders when discussing "Friendship Across Religions." In one discussion, Rabbi Jonathan Wittenberg (UK), shared his anxiety that, as a religious leader, he might not be able to extend enough "friendship" even to those within his own community. He laid out his personal doubts about his ability to spread his acts of friendship to those who needed them. The rich and very personal discussion between leaders of different traditions, in response to this personal challenge, is a beautiful and inspiring spiritual moment we would like to share with you.
Praying Together in (and with) Jerusalem
The next gathering of Praying Together in and with Jerusalem takes place over Zoom on Thursday January 7th at 11:00 am EST, 4:00 pm England time, 6:00 pm Jerusalem time. Our theme will follow on the conversations held between our religious leaders, who will take part also in the meeting. The theme for our monthly gathering is "Make Friends: Teachings on Friendship Between Religions." Details on speakers and registration information will be shared soon, in a follow-up message. Please save the date.