Religion in Times of Crisis
Wisdom from Leaders at Summer School 2020
02/10/2020 | Na stronie od 02/10/2020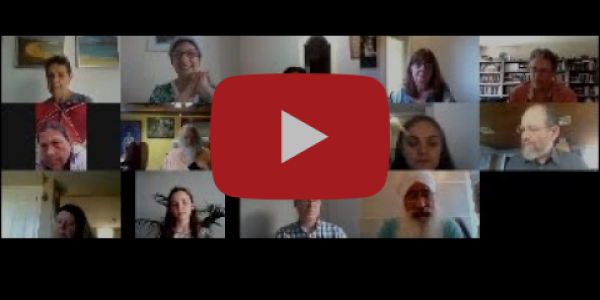 From Elijah Interfaith Institute
Our Coronaspection series asked religious leaders and scholars to reflect on the impact that Covid 19 has had on their religious lives and the lives of their followers, congregations or communities.
During our recently completed summer school program, devoted to the theme of "Religion in Times of Crisis", we asked some of those religious leaders to reflect on the impact of the coronavirus pandemic on their leadership. We asked them to consider whether the impact it had had on them personally had changed something in their style of leadership, if it had brought them closer to their community, if it had challenged their faith in a way that had an impact on their ability to lead or had strengthened their faith so that their leadership was more focused.
We invited pairs of leaders representing different religions in three different sessions, hearing from six traditions. We were able to explore what the common issues were faced by religious leaders and then to see the particularities that might reflect the religion itself, the challenges to leadership unique to each cultural and social setting, and also the personality and individual traits of the leader.
The present issue of Wisdom newsletter features the first of these pairs. We are happy to share the dialogue between Swami Rameshwarananda Giri, (Hindu) from Spain and Sukhbir Singh (Sikh) from the UK.
Swami Rameshwarananda Giri was the host of the last meeting of the Elijah Board of World Religious Leaders. He is the Founder and President of Fundación Phi, dedicated to favouring and strengthening the development of human potential and to harmonizing body, mind, spirit and environment. He is also the founder of the University of Consciousness Project, an area of study and learning where worldwide sages and leaders can meet to share knowledge and wisdom. Swamiji is also the President of the Transcendence Forum.
Sukhbir Singh was recently appointed Jathedar, leader of the London branch of the Guru Nanak Nishkam Sewak Jatha. He has been active in the work of the Elijah Board of World Religious Leaders for many years, supporting and accompanying Bhai Sahib Bhai Mohinder Singh of Birmingham.
Highlights from the Coronaspection conversation with Swami Rameshwarananda Giri and Sukhbir Singh as part of the Elijah Interfaith Institute's summer school
The session begins with prayers from both traditions, in view of the particular circumstances of illness in the family of our close friend Prof. Muhammad Suheyl Umar of Pakistan.
Both Sukhbir and Swamiji emphasised the charisma of a true leader, whereby their deep faith is evident to all those with whom they come in contact. Their authority emanates from their spirituality. The way of life of the leader inspires others to follow them.
Within the Hindu world, there is no centralised authority appointing leaders. The natural "holiness" of an individual enables them to attract followers. Swamiji spoke about a "radiance" that comes from the absence of "selfishness" and a certain "fearlessness." It is a personal process realised and does not rely on an outside authority making an appointment.
Setting the bar so high means that sometimes a person taking a leadership position may not be a true "leader". Both the Swami and Sukhbir recognised that communities need someone to lead them and both humbly acknowledged that the responsibilities they have taken on to serve communities do not automatically endow them with qualities they see in those who inspire them. They acknowledged the support they received and continue to receive from their teachers and mentors. Sukhbir said that "a perfect leader is a perfect disciple!" Leadership is continuously evolving in the leader.
The question was asked about whether a leader can be "trained" and there was some ambivalence about whether any amount of training can create a leader. Swamiji emphasised the need for practise and effort to go more deeply within oneself. Swamiji said that a leader is judged by what they leave behind and that legacy can be measured by how they respond in times of difficulty or crisis.
Regarding the current situation, there is, of course, a difference between a leader who is contemplative with a small group of followers and one who has large community reliant on her or him. It has become evident that in times of crisis, there is a great demand for spiritual leadership. Swamiji has been able to use technology to provide spiritual support and meditations on line. He has had to respond to a huge need for individual counselling. He has also been engaged in financial support for his Indian constituents.
Sukhbir also had to solve immediate practical problems. Sikh life centres around the Gurudwara, the Sikh Temple, and community life and providing meals. All of this had to be adapted. The leader had to spring into action and adapt quickly with creative solutions. The leader also had to provide spiritual, philosophical and theological reflections to give consolation to the community. The leader had to be a role-model of calm and positivity and clarify religious priorities – convincing people that rituals were secondary to preservation of life. Some hard decisions had to be made. Sikh communities around the world showed leadership by providing food to all in need – well beyond their own members – turning entire communities into "leaders." The leaders of communities grew from the experience, as did the followers.
The Covid 19 virus has made leaders aware of their connectivity to all of humanity and to the environment. Instead of looking only inwards, they are increasingly aware of the wisdom beyond as well as the needs beyond. Covid 19 has revealed the connectivity of all of humanity and nature and he believes that there has been an irreversible change. Although Swamiji's own interfaith work was already well-established before the pandemic, contacts were intensified and outreach was strengthened. Some so-called leaders were previously resistant to contact with others; now, the scepticism has been eroded by the reality of the common suffering and challenges.
Watch the full conversation between Subkhir Singh and Swami Rameshwarananda Giri, moderated by Dr. Alon Goshen-Gottstein.