Cultivating Faith as a Buffer in Times of Crisis
Praying Together in Jerusalem
01/10/2020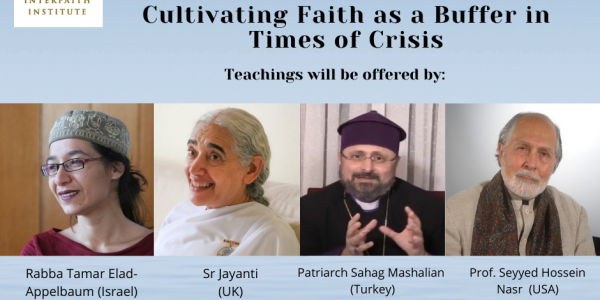 From: Elijah Interfaith Institute Praying Together in Jerusalem
International interfaith gathering for shared learning and prayer - in partnership with Praying Together in Jerusalem
Thursday, October 1 at 11 AM EDT / 6 PM Israel time
Montly interfaith prayer and learning gathering on Zoom. As Jerusalem is under new lockdown, all of us will meet in cyber-Jerusalem. Transmision <<<
Inspirational teaching by the following distinguished leaders and engage in dialogue and discussion on their contributions.
Participating teachers include:
Patriarch Sahag Mashalian (Turkey). Patriarch Sahak Mashalian was ordained as a priest in 1992 and as a bishop in 2008. He worked in Istanbul as a priest and itenary preacher, in Jerusalem as a monk, a religious teacher and a principal of the local Secondary School Tarkmanchats, and in Armenia as a lecturer and a dean of the Theological University of the Holy Etchmiadzin. Now He is the Patriarch of the Ecumenical and Interfaith Relations in the Armenian Patriarchate of Istanbul and a lecturer in Armenian College Sahakian.
Rabba Tamar Elad-Appelbaum (Israel). Rabba Appelbaum is the co-founder of the Beit Midrash for Israeli Rabbis, a joint project of the HaMidrasha Educational Center for Israeli Judaism and the Shalom Hartman Institute. Moreover, she founded Kehilat ZION in Jerusalem. She devotes much of her energy to the renewal of community life in Israel and the struggle for human rights. In 2010 she was named by the Forward as one of the five most influential female religious leaders in Israel for her work promoting pluralism and Jewish religious freedom.
Sr Jayanti (UK). Sister Jayanti is the European Director of the Brahma Kumaris World Spiritual University and their NGO Representative to the United Nations, Geneva. She has been an emissary for peace for over 40 years, travelling extensively as a speaker and broadcaster. She has contributed to the interfaith movement for over 35 years, presenting at many events including the Parliament of the World's Religions and most recently at the Durban Interfaith Rally on Climate Justice held at the start of COP17. Sister Jayanti heads the BK delegations to the current series of UN Climate Change conferences.
Prof. Seyyed Hossein Nasr (USA). Seyyed Hossein Nasr graduated from Massachusetts Institute of Technology with an undergraduate degree in Physics and Mathematics. He went on to Harvard University where he studied Geology and Geophysics, and then completed a PhD in the History of Science and Philosophy. He is a world renowned scholar on Islam and is currently a University Professor at GW. He has published over fifty books and hundreds of articles in numerous languages and translations.
75 minute program begins at:
11:00 am Eastern time
8:00 am Pacific time
4:00 pm London time
5:00 pm Paris time
6:00 pm Jerusalem time
8:00 pm Pakistan time
8:30 pm India time
11:00 pm Singapore time