Religion in Times of Crisis
Summer School 2020 - Religions In Times Of Crisis
02/08/2020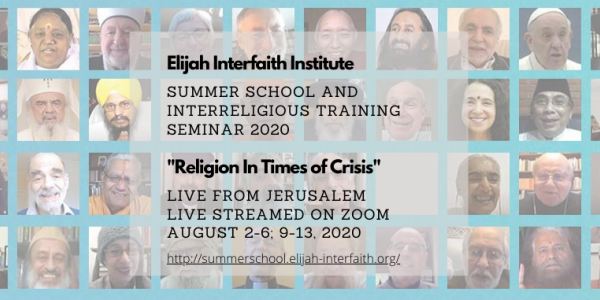 Join us – in Jerusalem or on Zoom – this summer!
So, you were planning on coming to Jerusalem but can't because of Corona?
Or you were planning on travelling to or in Europe, but can't?
Or your plans for August got upended because of Corona?
Or you're just interested in learning about religions from the comfort of your home?
This is your chance to take part in a program you've always wished you could
For the first time in nearly 25 years (thanks to Coronavirus), the Elijah Summer School and Leadership Institute will be taking place on Zoom
We're happy to announce:
Elijah Interfaith Summer School and Interreligious Leadership Seminar
"Religion in Times of Crisis"
August 2-6; 9-13, 2020
Religions may once have provided answers to humankind's deepest questions and given people consolation and hope but are they still relevant today?
In times of crisis, what can religions offer to their adherents and to the world as a whole?
Is their combined wisdom enough? Is it helpful?
The Elijah Interfaith Institute will grapple with these important questions during our 2020 Summer School and Interreligious Leadership Seminar. For the first time, participants can join from their homes. The entire program will be available via Zoom.
The two-week program will offer a range of lectures, discussions, workshops and other activities to create a virtual community of learners, even if physically diverse, joined by their common quest to understand the role of religion in today's world.
The current COVID-19 pandemic has allowed us to study the function of religion at a moment of global crisis.
We will ask:
What are religions supposed to do: on what domains of life do they impact and what do they achieve?
What happens in times of crisis? Do crises enhance the functioning of religion, undermine it or both?
We will hear from scholars of religion what they understand about the way that religions operate and we will hear from some of the world's most prominent religious leaders about how they dealt with challenges during COVID-19, through a unique series of interviews carried out by the Elijah Interfaith Institute, titled "Coronaspection".
The program for the summer school can be found here
The Archbishop of Canterbury, Justin Welby, the Chief Rabbi of Russia, Rabbi Berel Lazar, the Grand Mufti of Bosnia, Mustafa Ceric, Venerable Karma Lekshe Tsomo and Shrivatsa Goswami of India are among the teachers who will join us on Zoom and video.
They will share their personal experiences of the Covid 19 crisis as well as analyse the lessons to be learnt from this difficult period.
We will study sacred texts and writings both through conventional analysis and sometimes through the means of Bibliodrama, where we enter the text and speak from within. There will even be virtual tours of Jerusalem, focusing on religious sites, to help us understand the role of religion in the lives of people here.
You may join us on a full or part time basis, by registering at
More: Coronaspection - The Official Trailer: