Coronaspection: World Religious Leaders Look Inward During a Time of Global Hardship
05/06/2020 | Na stronie od 06/06/2020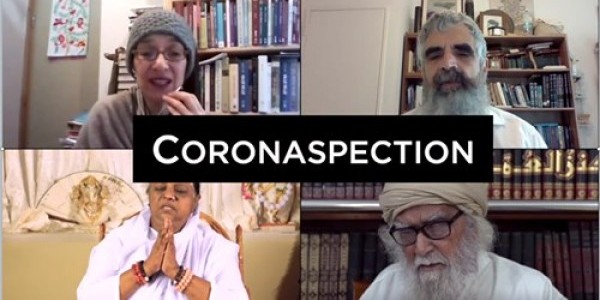 From: Elijah Interfaith Institute, Israel and Tablet
One of the most important insights of the Coronaspection project, which brings together 40 world religious leaders for their insights on faith during the time of the coronavirus, has to do with the sense of solidarity and interconnectedness of humanity. Unity is one outcome that almost all participants recognize, and this unity extends also to some significant dimension of unity across religions. United in their struggle with the spiritual challenges of one virus, religious leaders of different traditions share their particular vision across religious boundaries. by Alon Goshen-Gottstein Executive Director of the Elijah Interfaith Institute, Israel, is the author of The Jewish Encounter with Hinduism: History, Spirituality, Identity.
It's funny how big ideas can be born almost coincidentally. I had just visited the ashram of Amma (Amritanandamayi Ma), the world-famous hugging saint, in Kerala, India. I had gone there to obtain Amma's signature on a declaration of Friendship Across Religions. I had been working on this declaration for some time, since the release of a project of video interviews calling for friendship across religions.
Amma participated in that project, as did the pope, the Dalai Lama, and a star-studded cast of premier world religious leaders. The project was a great hit, had huge global outreach, and one of its outcomes was the decision to compose a declaration on Friendship Across Religions. This declaration could then serve as a driver for a global movement of religious leaders who would collaborate in friendship, sharing wisdom and community-oriented activities. It was February. COVID-19 had broken out, but life was still normal. Amma had agreed to sign the declaration and before leaving the ashram she asked me if I had received it. I had not. This led me to call the ashram time and again, upon my return home, in an attempt to talk to the swami from whom I was supposed to receive the signed document.
As weeks progressed, I realized my timing might not be optimal, so I called the ashram to talk to one of my contacts. She described the reality of life in the ashram, how busy everyone was, how busy the swami I was after was, and agreed it would be better to wait with my request. The entire ashram was busy sewing protective masks. "If you want to help," she said "get your organization to help with sewing masks."
I explained to her that I ran an organization with generals, but no soldiers. My organization, The Elijah Interfaith Institute and its Board of World Religious Leaders, brings together some of the world's most prominent religious leaders in study, spiritual sharing, friendship, outreach, and more. That's how I could put together the Make Friends campaign, at the instigation of Mark Woerde, an advertising genius from Amsterdam who sought my help in realizing this project, when not a single religious leader returned his calls. But, as I told my contact, we have no soldiers. Hence, we were useless at the moment. I was useless.
Or was I? It gradually dawned on me that I was uniquely positioned. With access to so many of the world's major religious leaders, a history of friendship, a track record of successful activities, and a high degree of trust in me and in Elijah (the organization), I could actually be of service. "Make Friends" had suggested to me a particular way of addressing the world, through video interviews with premier religious leaders. Why not repeat the formula again?
Surely the world needs more than masks at this moment. It needs meaning. It needs direction. It needs hope. It needs tools to overcome not only the physical challenges presented by the coronavirus but also the spiritual challenges. And, I believe, it also needs to draw on religious teachers and teachings as part of a collaborative interreligious effort, that brings the perspectives and teachings of all religions to all of humanity. While every teacher addresses his or her community, no one had sought to bring together voices from across the diverse landscape of world religions in order to offer teaching, meaning, and hope. Having realized this, I was no longer useless.
The first step was to begin in-house consultations among members of the Elijah Board of World Religious Leaders. What did we need to do as a group? What challenges and needs could we address? Some 30 participants, about half the forum, took part in a series of consultations. They brought to the conversation not only diverse religious perspectives but also diverse geographic ones. Through these consultations, the questions of what we agreed to call "Coronaspection"—spiritual introspection in light of the coronavirus—came into relief. Our job as religious leaders was to offer guidance in relating to the spiritual challenges of the pandemic, to offer a perspective on how to understand it, to suggest a vision for the world following COVID-19.
The shape the project took was that of a series of interviews with religious leaders. The leaders were Elijah-affiliated leaders, but not only. By force of circumstance, and based on prior relationships, it fell to me to conduct almost all of the interviews. Initially I tried to simply recreate "Make Friends" with the same cast of players, but I soon realized that I need not be tied to the particular composition of that project.
Balance is notoriously hard. I had to balance different religions; to ensure women were present, even if they are absent or do not play a major role in a particular religion's formal structures; to balance religious hierarchy and representativity with bringing forth important voices that may be less well known. I had to also deal with some practical complications that COVID-19 placed on certain leaders who, for a variety of reasons, could not take part in the project as a consequence of the pandemic.
With all these factors taken into account, and with efforts made to achieve optimal balances, I was able to engage close to 40 important voices in this project. The scope of participants, their diversity, their international spread, and the multiplicity of their views yielded a collection that I consider truly outstanding
The process of interviewing was in principle straightforward. The consultations at Elijah helped me identify the concerns, which then yielded a set of questions that were shared with leaders in advance of the interview. The early interviews adhered to the format, almost religiously. However, the interview process was dynamic. The most important development was the intuition that we should conclude interviews with prayers. We were trying to provide spiritual food and not only share theoretical perspectives.
Prayer was therefore a significant resource in helping future viewers as they struggled with the spiritual challenges of COVID-19. Prayer expanded to meditation. Especially with reference to Buddhist participants, it became clear that they were in possession of some powerful tools that could aid others in coping with spiritual challenges. As a result, some of the interviews featured, at times quite extensively, meditative tools for altering interior attitudes. These tools can aid future viewers in dealing with the spiritual challenges posed by the coronavirus, the ensuing lockdown, and various changes in their lives as a consequence of the pandemic. The collection of interviews became, in this way, also a collection of spiritual practices, shared by participating leaders with whomever would watch the series, regardless of their religion.
In hindsight, the series offers us a fascinating comparative window on how different religious leaders, across a diversity of traditions, open themselves up to the divine or the higher reality. This is both a comparative teaching about religions and a cross-religious inspiration for the spiritual life. Some of the particularity was a function of the time. The process began before Passover, continued through Easter, and has been going on through Ramadan. The ultimate religious reality conveyed in the interview remains timeless, allowing people to be nourished by the encounter even after the festival had passed.
A successful interview, as I came to appreciate it, was one in which a rounded image of the spiritual life and worldview of the contributor was articulated. I take great satisfaction in the fact that in almost all cases it has been possible to feature, through our personal exchange, the very spiritual life of my conversation partner. This means that the answers to contemporary spiritual challenges posed by COVID-19 are grounded in the fullness of the spiritual reality of the person being interviewed. If I have been successful as an interviewer, then success consists in bringing to light that entire complex of views, attitudes, and orientations that makes each believer unique.
Religious leaders come through in this project not as so many cookie-cutter religious personalities, molded by their religious traditions. Rather, each religious leader frames, understands, lives, and expresses his or her religious life in slightly different ways that draw on the subtradition to which he or she belongs. Holding these conversations was therefore a journey to discovering the spiritual heart and soul of the individuals I met or interviewed on this journey. From their hearts and souls, they offered a wisdom that can bring meaning and hope to all, as they sought to offer guidance and perspectives on COVID-19.
I have often wondered what value "Coronaspection" would have for someone looking at it 10 or 50 years from now. I think the answer is twofold: In one way, it is a testimony to how religion functioned in a situation of extreme distress. How did religious leaders act, what service did they provide, and what teaching did they offer when the need was greatest? This is also why I approached some leaders from corona-stricken areas, in an attempt to get a view of how it affected their reality in real time. This explains why Italy is so dominant in the project.
The other perspective that I hope will pass the test of time goes beyond the historical or documentary perspective. The wisdom that is offered in almost each and every interview is timeless wisdom that is applied to a particular moment and to particular challenges. These challenges often bring out the deepest resources a tradition has. They may also help in the creation of new ones. There are, I believe, some novel spiritual insights articulated throughout the project. But whether classical or newly articulated, these are spiritual resources that can speak across religions and across time. I believe their testimony will be of value not only to those presently experiencing the challenges of COVID-19, or to those who, God forbid, might face them if future waves of infection occur. Rather, because the questions and challenges touch upon some of the deepest human and spiritual concerns, the answers and perspectives offered in response to these questions can continue to inspire people under a variety of circumstances.
Considering the project as an ensemble, I think it justifies the approach of bringing together multiple voices of different religions. It is not only that the virus does not discriminate between religions and that it therefore also invites responses to be shared across religions. In addition, it has led to the shutdown of most of our religious houses: Synagogue, mosque, church, temple, gurdwara, etc. are all shut during this period. Hard as it may be for the individual practitioner and for the ongoing life of the particular religious community, this actually ends up creating a new community, a broader community, a global community. Teaching has the potential of finding new audiences, beyond the shuttered houses of worship. Through the internet and other public settings, a more unified approach emerges.
One of the most important insights of our project has to do with the sense of solidarity and interconnectedness of humanity. Unity is one outcome that almost all participants recognize, and this unity extends also to some significant dimension of unity across religions. United in their struggle with the spiritual challenges of one virus, religious leaders of different traditions share their particular vision across religious boundaries. As some of the interviews suggest, the increase in unity, in humanity and across religions, is one of the blessings brought about by the coronavirus.
In fact, one of the most important conceptual threads that runs through the project is the recognition that for all its hardships, coronavirus is in some way also a blessing. To uncover that blessing we may need the eyes of the other and the experience of another spiritual tradition and how it is able to find blessing even in hardship. If through this project we have been able to point to a vision of religious collaboration and sharing that allows us to replace the eyes of competition with the eyes that jointly search for the divine blessing in our shared human hardship, we may have found therein one of the most important blessings brought to us by the coronavirus.
For more, visit the Coronaspection Project website.
Alon Goshen-Gottstein, Executive Director of the Elijah Interfaith Institute, Israel, is the author of The Jewish Encounter with Hinduism: History, Spirituality, Identity.