Rabbi Skorka promotes interfaith dialogue on campus
11/02/2020 | Na stronie od 11/02/2020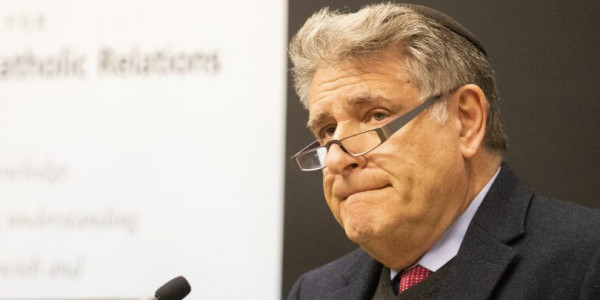 Source: The Hawk Newspeper
Written by Eddie Daou
Rabbi Abraham Skorka, Ph.D., visiting professor of theology, has fostered ongoing conversations about interfaith relationships through his close friendship with Pope Francis. Skorka has worked to promote a deeper understanding between Catholics and Jews at St. Joe's through research and on-campus events.
Skorka served as the rector and professor of biblical and rabbinic literature at the Seminario Rabínico Latinoamericano in Buenos Aires, where he first met Pope Francis in 1997.
"The friendship developed because both of us felt that we have a mission to continue ahead with the dialogue that our ancestors began working on years ago," Skorka said. "One recognized in the other a very good partner to do that."
Skorka said his relationship with Pope Francis is not based on trying to convince the other of their personal beliefs, but to open up a dialogue between their faiths to help fix global issues and problems affecting members of both religions.
The Pope and Skorka have been friends since 1997. PHOTO COURTESY OF RABBI SKORKA
"We think together about what the source of the errors that conduct these problems are, what the errors are and what we must do," Skorka said.
Skorka and Francis have held many talks about interfaith topics over the years, including a book they wrote together called "On Heaven and Earth."
Skorka said he last met with Francis in November, celebrating 10 years since the publication of their book. At their meeting, Skorka and Pope Francis recorded a video message for Hanukkah and Christmas during their discussion in November. They also discussed various social issues together to continue their conversation about what they must about them.
"We spoke about the violence throughout the world, about anti-semitism, xenophobia and the degree of violence that we see in Latin America and other places in the world," Skorka said.
In addition to his published work, Skorka is a professor with the Institute for Jewish-Catholic Relations (IJCR) at St. Joe's. The IJCR is a group of professors researching and teaching courses on Jewish-Catholic relations in the department of theology and religious studies in order to foster a strong relationship between the two communities.
Adam Gregerman, Ph.D., professor of theology and co-director of the IJCR, said Skorka and Francis promote peace through their relationship and respective religions.
"Pope Francis interacts with Rabbi Skorka as a colleague and friend, and has an intimacy [and] a familiarity with living Judaism that no earlier Pope had," Gregerman said.
Gregerman said the close friendship Skorka has with Francis has enabled him to raise concerns within the Jewish community to the Vatican.
"It has been gratifying to see how seriously Pope Francis takes the relationship at a time of religious violence and increased anti-semitism," Gregerman said.
Skorka held a two night discussion, "Jewish Views of the Religious Other" in the Forum Theatre in Campion Student Center to encourage interfaith conversation.
The first of these talks was on Christianity, which occurred Jan. 27, and the second on Islam and the religions of Asia on Feb. 10. Skorka said these two conversations aim to show the importance of dialogue to the audience.
"The idea of dialogue is again to try and go deep in the thoughts of the other at the time and that the other is going to understand deeply what are your own feelings, who are you in general," Skorka said.
Robert Murphy '21, who attended the first talk, said it is important to promote religious tolerance.
"Somebody else can have a different viewpoint and it may or may not seem correct to you, but you can have a dialogue about it," Murphy said.
Skorka said the importance of continuing interfaith dialogue looking forward is not to force your opinions on someone, but to be open to the opinions of others.
"To help one another through dialogue," Skorka said. "Not to try to transform the other, but to work together."